---
Register Your Child
---
When you register your child with the Minnesota DeafBlind Project (MNDBP), our Family Engagement Coordinator will reach out to connect with you. This initial conversation will help us learn a little more about your child and family's journey as well as to share information about who the MNDBP is and what resources and supports may be available for your family. These services are free to families.
Register with the Minnesota DeafBlind by completing the form below in your preferred language.
Register Your Child (English) »
Registrar a su hijo (Spanish) »
Sau npe rau koj tus menyuam (Hmong) »
Diiwaangeli ilmahaaga (Somali) »
ဖိသၣ်အသီတၢ်ဆဲးလီၤမံၤစရီ (Karen) »
Check out our "Parent Resource Guide" which is a great brief introduction to the Minnesota DeafBlind Project and deafblindness by clicking the image below.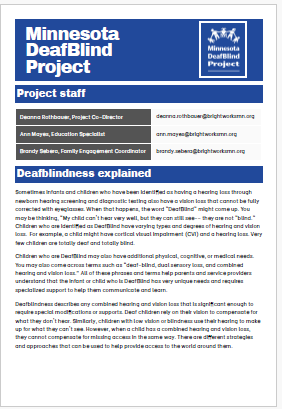 For Families
For Professionals